Injured? Call Now. Free Case Review.
PAM COOKING SPRAY LINKED TO SUDDEN EXPLOSIONS AND SEVERE BURNS
Get Your Free Case Review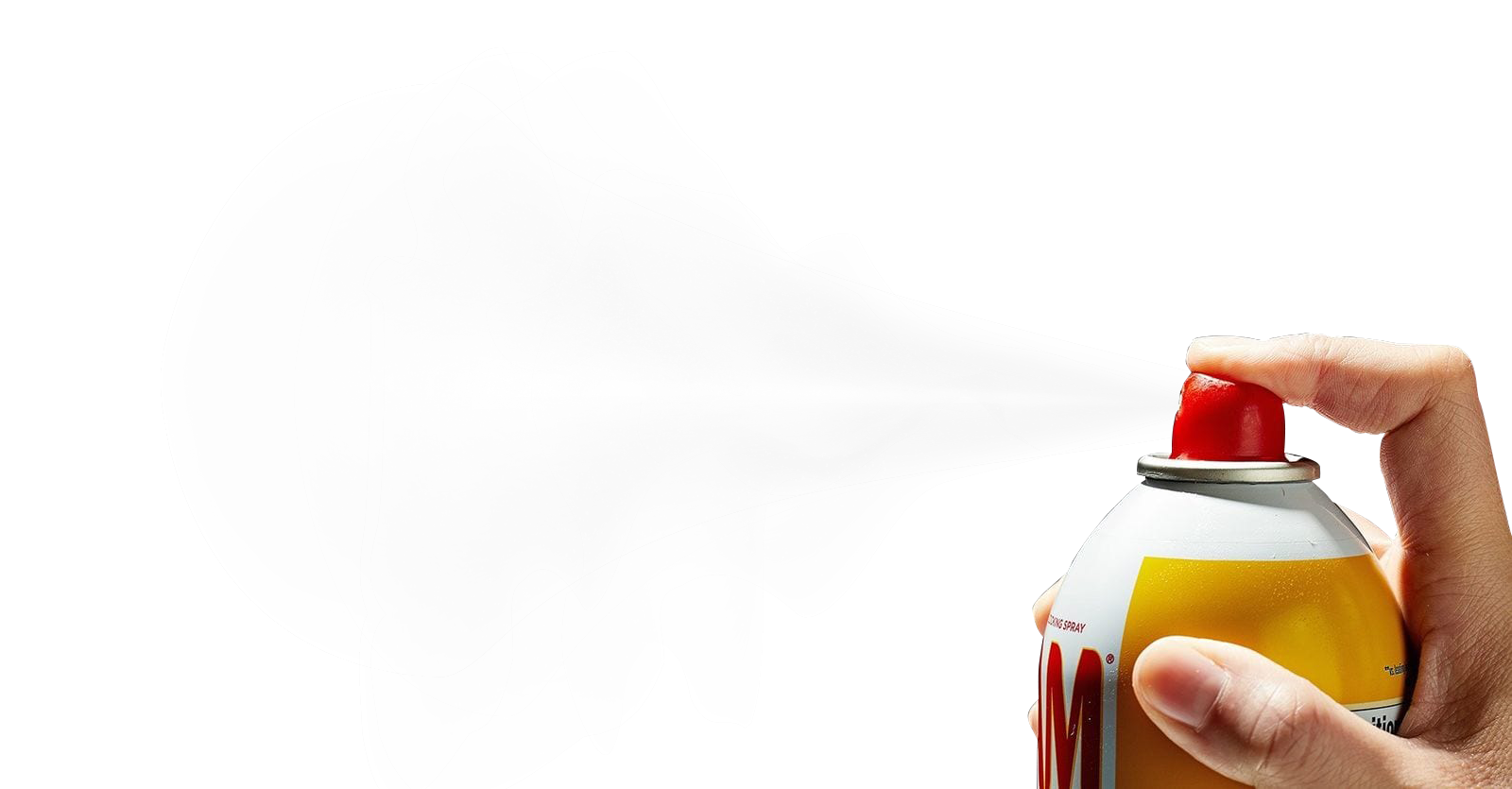 Fill out the form below to see if you qualify for compensation. We will contact you shortly.
Did you suffer severe burns after a can of Pam cooking spray suddenly exploded? Significant compensation may be available for your injuries.
"I was amazed at how quickly I heard from you and received the settlement. Thank you so much!"
GLORIA GEIS — Pulaski Kherkher Client

By clicking 'Get My Free Case Review' and submitting my request, I confirm that I have read and agree to the privacy policy of this site and that I consent to receive emails, phone calls and/or text message offers and communications from Pulaski Kherkher, PLLC, and its network of lawyers and advocates at any telephone number or email address provided by me, including my wireless number, if provided. I understand there may be a charge by my wireless carrier for such communications. I understand these communications may be generated using an autodialer and may contain pre-recorded messages and that consent is not required to utilize Pulaski Kherkher, PLLC's services. I understand that this authorization overrides any previous registrations on a federal or state Do Not Call registry. Accurate information is required for a free evaluation.
SEVERE BURNS AND INJURIES CAUSED BY EXPLODING CANS OF PAM COOKING SPRAY
Consumers are suffering severe burns and serious injuries from cans of Pam that seemingly explode for no reason, even when stored away from flame and direct heat. Reports of injuries vary greatly and include –
Second- and third-degree burn injuries to the face, arms, chest, neck, arms, and abdomen
Severe impact injuries to the face and body
Extreme pain and suffering
We are helping consumers who suffered serious burns and injuries hold Pam manufacturer ConAgra Foods liable for their allegedly dangerous and defective cooking spray and ensuring our clients receive the maximum amount of compensation for their injuries.
DEFECTIVE DESIGN, OVER-PRESSURIZATION, AND HIGHLY FLAMMABLE CONTENTS
Unbeknownst to many consumers, Pam contains highly flammable petroleum-based ingredients such as ethanol, butane, liquified petroleum gas, and or propane. Consumers who have been burned by exploding cans of Pam say ConAgra mislabeled these dangerous chemicals as 'propellant' on the container, allegedly underplaying the risk of explosions and fires the contents pose.
Injured consumers also allege that the design of the cooking spray can is defective because it can vent pressurized flammable ingredients from the bottom of the container when exposed to temperatures that are much lower than expected.
According to fire, explosion and chemical expert Dr. Michael Fox of Chemaxx Inc., ConAgra's Pam cooking spray canisters have vents that open when the can is exposed to temperatures below industry standards. This defect is in combination with containers that are prone to be over pressurized, potentially resulting in the cooking spray container exploding and spraying flammable ingredients across stoves and open flames.
Lawsuits filed on behalf of consumers who suffered disfiguring burns, deformity and permanent scarring from exploding Pam containers allege that ConAgra Foods knowingly placed the cooking product in a container with defective venting and then knowingly over-pressurized the container.
Plaintiffs in these lawsuits allege the company failed to adequately label and warn consumers of the extremely dangerous aerosol ingredients in the container, ingredients that can explode when exposed to temperatures below what would normally pose a risk in similar containers.
REPORTS OF SEVERE INJURIES FROM EXPLODING COOKING SPRAY CANS
Reports of severe burns, physical injuries, permanent deformities, and extreme anguish and suffering after Pam cooking spray explosions have been filed around the country. Just some of these reports include:
A woman in Colerain Township, Ohio is seriously burned and nearly dies when a can of cooking spray suddenly exploded and burned her all over her body.
A 46-year-old woman from Toms River, New Jersey suffered burns to her face, torso, and thighs when a can of non-stick cooking spray exploded while she was cooking.
Utah couple suffers third-degree burns after can of PAM explodes and sets both husband and wife on fire.
Woman suffers first-, second-, and third-degree burns to her face, arm, hand, chest, leg, and foot after a can of Pam, that was 'far away' from where she was cooking exploded and shot flames across the counter, her clothes, and all over her body.
A Cincinnati woman suffered burns and substantial deformity when a can of PAM cooking spray on a ledge above the stove exploded while she was cooking.
Two steakhouse employees were injured and hospitalized after a can of non-stick cooking spray exploded and caused a flash-fire.
If you or someone you love has suffered severe burns or serious injury from an exploding Pam cooking spray container, contact us now. We are investigating claims across the country and want to hear from anyone who sustained injury from this allegedly dangerous product.
PULASKI KHERKHER, PLLC. WE CAN HELP.
Product manufacturers have a duty to ensure their products are safe before they are sold on the U.S. market. If they fail their duty, they may be held liable under consumer protection laws and those who are injured by the product may be entitled to seek compensation for damages.
Contact us now if you were seriously burned or injured in a Pam cooking spray explosion. We have been fighting for consumer rights for decades, and the defective product attorneys at our firm will fight to ensure you get the maximum compensation available for your injuries. Contact us today to learn more.
Copyright © 2020 | www.PamSprayInjury.com
The information you obtain at this site is not, nor is it intended to be, legal advice. You should consult an attorney for advice regarding your individual situation. We invite you to contact us and welcome your calls, letters and electronic mail. Contacting us does not create an attorney-client relationship. Please do not send any confidential information to us until such time as an attorney-client relationship has been established. Prior results do not guarantee a similar outcome. Pulaski Kherkher, PLLC, 2925 Richmond Avenue, Suite 1725, Houston, TX 77098

Pulaski Kherkher PLLC, takes great pride in our personal approach to the practice of law. By utilizing cutting-edge technology to keep our clients updated with recent case developments, we are able to build and maintain strong relationships with all of our clients. We treat our clients not just as business relationships, but as friends.
Over the last twenty years, Pulaski Kherkher, PLLC has brought thousands of cases to resolution. Our goal is to treat each client as if he or she were our first and to work diligently to pursue his or her cause of action with all available means granted to us by the courts.